What is a Website Builder?
Learn about website builders and how you can create your own websites easily.
If you're thinking of creating a new website, you don't need to hire an expensive web designer or learn how to do any coding. All you need is a website builder. But what is a website builder?
Índice: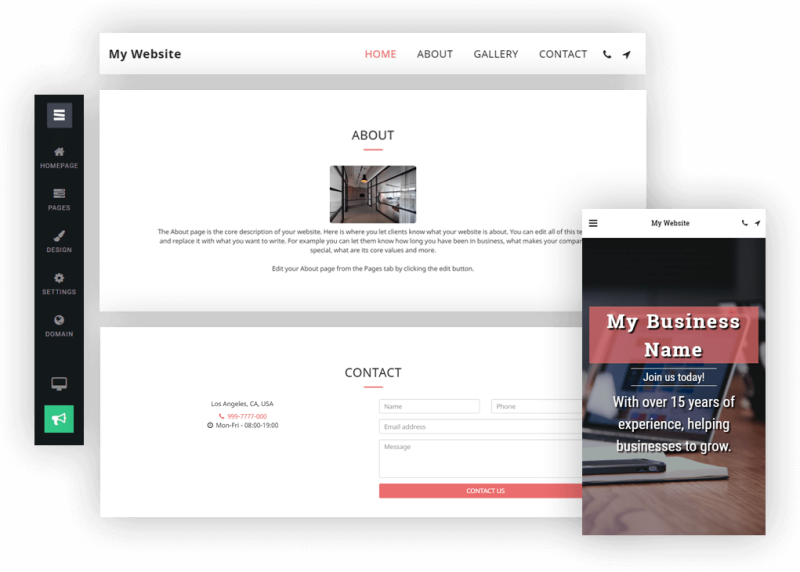 Website creation made easy
The basic idea of a website builder is similar to using building blocks. You simply take the pieces you want on your website, drop them in place, and you're ready to go! The result is a great looking website without any big price tag. A free website builder such as SITE123, allows you to create the perfect website without any obligation or big investment. You can make sure you will get the website you want without having to pay anything.
Você precisa de um site?
Quer construir um site, mas não sabe por onde começar? Nosso construtor de sites é a solução perfeita. Fácil de usar e com a capacidade de personalizar para atender às suas necessidades de negócios, você pode ter um site profissional rapidamente.
What makes a good website builder
The key to choosing the best website builder for your site is variety. A website builder should allow you to create a website that is right for you. This means having plenty of templates and designs available. After all, your website is a reflection of you. You don't want it to look like every other website filling up the internet! Another big thing to consider is whether a website builder offers an easy drag and drop designer. This will allow you to do exactly what you want with your site. If you want your contact details on the left, just drag and drop that element there; if you want them on the bottom, it's easy to rearrange. Drag and drop editors are intuitive tools that make it easy for you to make your site look the way you want it to and to include the features that are most important to you. When you compare website builders, also keep in mind what you are getting for your money. Look for one that offers support, both as you create your website and after you make it live. This gives you the best combination of do it yourself savings and professional knowledge, resulting in a website that looks and works exactly the way you want it to.
Go mobile
With more people browsing websites from mobile devices, such as smart phones and tablets, it's important to choose a website builder that offers responsive design. This is the preferred choice of many search engines, too, because it means your site will give their users the best experience whether they're on a computer, laptop, tablet, or phone. Responsive design is something that has really changed browsing in the past few years, so choosing a website builder that keeps up with the ways web design has changed gives you the best end result. Look for a website builder that offers cutting edge design technology but still keeps an easy to use platform for you. SITE123 offers just this - a responsive design, giving your site's visitors the best experience - with an easy to use platform for you. You can update your website's content easily, and make changes to the design whenever you need to. With great support, you can also be confident you'll have help when you need it.